It's our (shortly after) Mother's Day episode, in which we learn from Edward the Confessor how not to treat one's mother and investigate a connection between The Song of Roland and radioactive wastelands.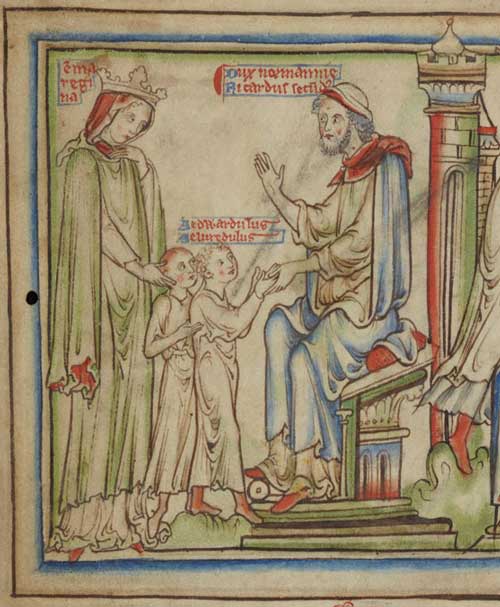 Today's Text:
Annals of the Church of Winchester. In The Church Historians of England. Vol. IV, Part I. Ed. and Trans. Joseph Stevenson. London: Seeley's, 1856. 347-384. (Available at Google Books.)
References:
Burgess, Glyn S., trans. The Song of Roland. New York: Penguin, 1990.
Holmes, Urban T., Jr. "Chernubles de Munigre." Speculum 16.2 (Apr. 1941): 244-245.
Stafford, Pauline. Queen Emma and Queen Edith: Queenship and Women's Power in Eleventh-Century England. Oxford: Blackwell, 1997.
Image: Queen Emma flees with Edward and Alfred to her brother in Normandy, detail from Cambridge University Library MS EE 3.59 f. 4v. [Used under a Creative Commons Attribution-NonCommercial 3.0 Unported License (CC BY-NC 3.0).]