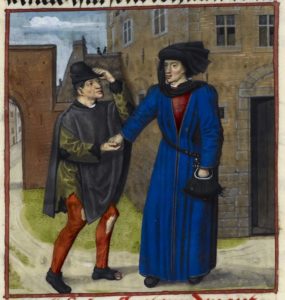 We're back for some late summer episodes with a look at how medieval authors cozied up to potential patrons, with a specific look at Gerald of Wales. Coincidentally, we also announce our Patreon campaign! You can support us at www.patreon.com/mdtpodcast/ and get an audiobook of Jordanus's Wonders of the East.
Today's Texts:
Selected References:
Gilbert, Creighton E. "What Did the Renaissance Patron Buy?" Renaissance Quarterly, vol. 51, no. 2, Summer 1998, pp. 392-450. JSTOR, www.jstor.org/stable/2901572.
Haskins, Charles H. "Henry II as a Patron of Literature." Essays in Medieval History Presented to Thomas Frederick Trout, edited by A.G. Little and F.M. Powicke, Books for Libraries Press, 1925.
Holzknecht, Karl Julius. Literary Patronage in the Middle Ages. Collegiate Press, 1923. Archive.org, https://archive.org/details/literarypatronag00holzuoft.
Safner, Ryan. "Do Patronize Me: The Comparative Political Economy of Arts Patronage, Copyright, and Crowdfunding." 10 Nov. 2015.