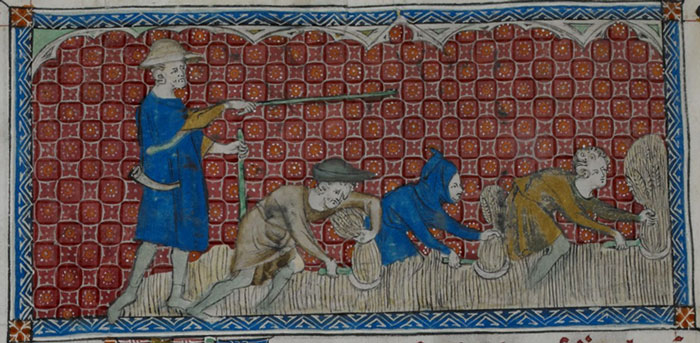 This episode, we follow up on a question from Ep. 90 about why the wandering worker Thomas Fuller might have fallen in with a criminal shepherd by looking at a pair of vagrancy and labor laws from the economically disrupted decades following the Black Death: the Statute of Laborers of 1351 and the Commons' Petition against Vagrants of 1376. We also learn a bit about late medieval prisons.
Today's Texts:
Henderson, Ernest F., editor and translator. Select Historical Documents of the Middle Ages. George Bell and Sons, 1892, pp. 165-168. Google Books.
"Commons' Petition Against Vagrants" of 1376," reprinted in R.B. Dobson, The Peasants' Revolt of 1381. MacMillan, 1970, pp. 72-74. Google Books.
References:
Clark, Elaine. "Institutional and Legal Responses to Begging in Medieval England." Social Science History, vol. 26, no. 3, Fall 2002, pp. 447-473. JSTOR, www.jstor.org/stable/40267786.
Geltner, Guy. "Medieval Prisons: Between Myth and Reality, Hell and Purgatory." History Compass, vol. 4, 2006, pp. 1-14, doi: 10.1111/j.1478-0542.2006.00319.x. Available at guygeltner.net.